In today's digital life, the concept of wires is becoming obsolete. From PC to a laptop, telephones to mobile, everything has become Wireless and thus, hassle-free. Thanks to WiFi, we no longer need to run the network cables around the house or building. Whether you want to make a local network in-home or office, a router is required. With so many choices available, it can be confusing to choose the best.
When buying a Wireless Router, you should ask yourself; what are you going to use it for? If you use the internet for email and news only, a basic router should be enough for you. But if you are a heavy data user like you play online games, or watch online movies then you should get a high-end router.
The next question you should ask yourself is which wireless protocol? Many wireless protocols/ standards exist like 802.11a, 802.11b/g/n, and 802.11ac. Your computer or mobile devices must be compatible with the wireless standard of your router. Most computers bought in the past few years connect to the 802.11n network, which has been the wireless standard for about the past seven years or so. But 802.11ac is the latest standard currently which also has backward compatibility so it can be your best choice.
In this article we would review some routers, so you can choose the best router for your home or office according to your needs:
Top Rated WiFi Routers Reviewed – Best of 2023
1. Asus ROG Rapture GT-AX11000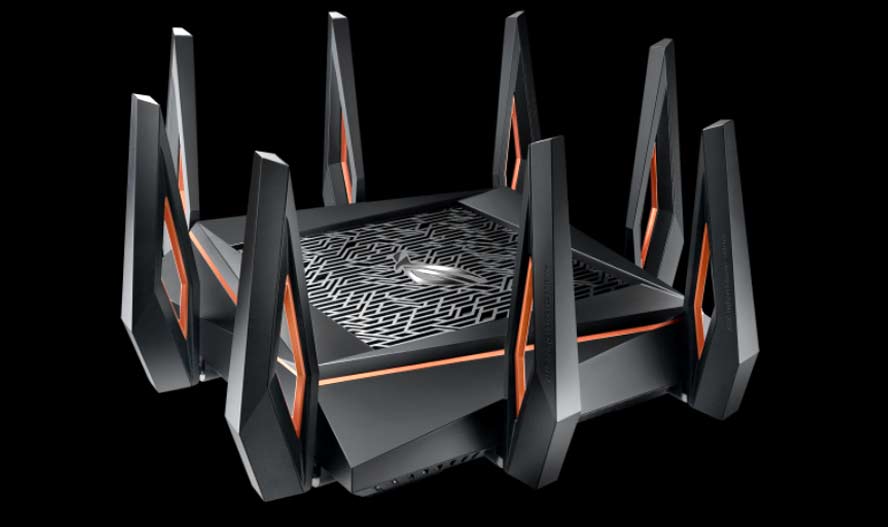 This wireless router from Asus looks more like an octopus. A stylish and modern octopus. It is a big boy router, and it has eight thick antennas mounted on all four sides. The top side of the router has vents that help with the cooling when it is under load.
Powering this wireless router is a 1.8 GHz quad-core processor paired with 1 GB of RAM and 256 MB flash storage. This wifi router has 1 gigabit WAN port and 4 gigabit LAN ports alongside a 2.5 gig multifunction ethernet port. It also has two USB 3.0 ports for adding storage to your network.
This router claims to provide 11 gigabits of combined wireless throughput. But in reality, this is a combined throughput, and no single client exists which can utilize all of this bandwidth. This large bandwidth will come in handy when you have many high-performance devices wirelessly connected to this router.
This router also has RGB lighting on it. This RGB lighting will make this router perform even better in the dark than the rest of the competition. Setting up this router is a breeze, and it only takes 5 to 10 minutes to set up this router. Of course, if you want to configure more than the Wifi name and channel, you will need to spend extra time with this router.
Thankfully, every setting of this router is clearly labeled and categorized nicely. This router offers QoS, parental controls, wifi scheduling, and all the other network features you expect from a modern-age router. This router also has a game mode that delivers lower latency by prioritizing gaming traffic over other things.
In my testing, this router performed excellently. I was getting a consistent 1-gigabit wireless speed when 10 feet away from the router. At a long distance of 50 feet, I was still getting 400 to 500 megabits of wireless throughput.
This router had no trouble providing excellent wifi signals in a 2700 sq ft house. I did not experience any dead zones, and the wireless speeds were around 200 megabits on the far end of the house.
This router also supports link aggregation for connecting a high-speed NAS to your network. I have not tested link aggregation yet, but according to some reviews online, it works great. Overall, this router is an excellent choice if you are a content creator and a gamer. With this router, you can game and upload videos at the same time. The QoS on this router is miles ahead of the competition.
At $490 or less, this router is going to future-proof your home network for years to come. And like other routers from Asus, it provides a free Lifetime AiProtection for your home network.
2. Asus RT-AC88U Dual-Band Router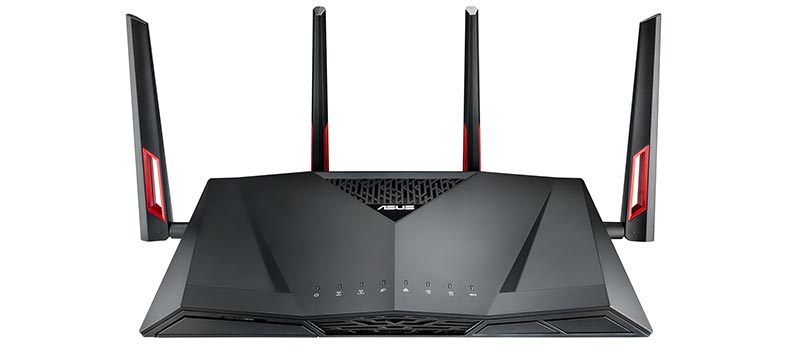 Asus RT-AC88U offers great features, dual-band 802.11ac protocol, and a high price tag. It has many ports including Gigabit LAN ports and multiple USB ports. Throughput is speedy on both the 2.4GHz and 5GHz bands. The user interface is well-designed and has great management functions for easy control.
The design is good, the router is enclosed in matte-black housing. On the front panel, it has LED indicators to indicate the status of different ports and the internet.
With Broadcom's NitroQAM technology it delivers up to 3,167Mbps of combined (theoretical) throughput (1,000Mbps on the 2.4GHz band, and 2,167Mbps on the 5GHz band).
It has four external antennas that can be removed and an assembly of ports around the back, including the enormous eight Gigabit Ethernet ports, one WAN port, and one USB 2.0 port. On the back, there is a reset button, a Power button, and a WPS button. It supports USB 3.0 and its port is located on the front of the router.
Asus RT-AC88U is a feature-packed, expensive dual-band router. It supports MU-MIMO for multiple users. The recorded throughput is 5GHz. It is our first choice among high-end routers.
3. Linksys WRT1900ACS Dual-Band WiFi Router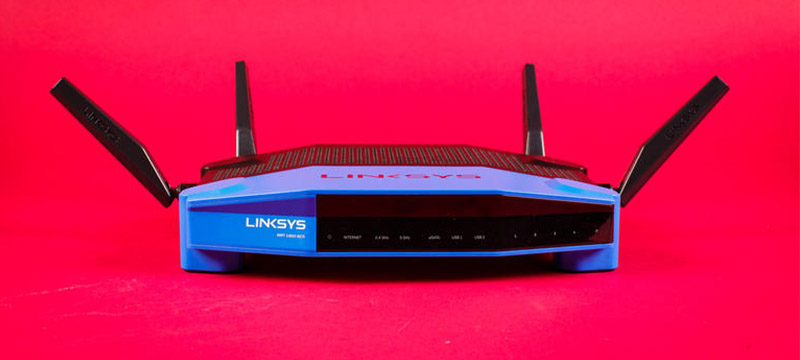 Linksys WRT1900ACS Dual-Band WiFi Router has a dual-core, 1.6GHz processor and to support the system memory it contains 512MB DDR3 RAM (which is non-geeky terms means that it is going to handle all local caching of websites well enough). It is equipped with four antennas and provides excellent signal strength and long range. Significant features are AC1900 wireless speed, USB 3.0 Port, 4 Gigabit Ethernet ports, USB 2.0 port.
It contains the Linksys Smart WiFi software with Network Map through which you can view all connected devices on a single screen, track the status and network strength of the devices, measure bandwidth usage per device and create personalized names to identify the connected devices.
Like all the high-end routers, the WRT1900ACS has all the usual functions such as port-forwarding, Dynamic DNS, WPA/WPA2 encryption, and IPv6. It is the first router from Linksys supporting the OpenVPN, which allows remote connection to users. For techy users, there is the option of modifying the router with open-source firmware. It is made to use with OpenWRT, advanced users can modify and customize the firmware.
WRT1900ACS has long-range and fast speed. Being expensive, it delivers the performance according to the price.
4. D-Link AC3200 Ultra Wi-Fi Router (DIR-890L/R)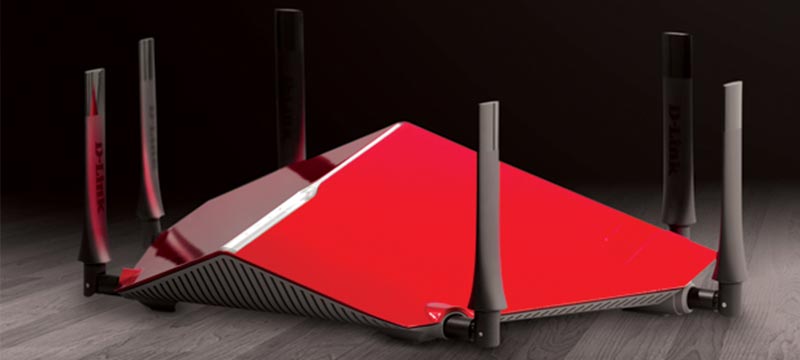 AC3200 (DIR-890L/R) is a classy and good-looking wireless router from D-Link. This gigantic tri-band router has impressively fast throughput speeds; along with the speed, it has a classy design and a very unique look.
With six adjustable antennas and a shiny-red finish, the DIR-890L/R can be a classy router for serious gamers, along with the looks it has performed. It is physically big like mostly tri-band routers we have reviewed, including the Netgear Nighthawk X6 AC3200, Asus RT-AC3200, and the Linksys AC3200 (EA9200). Being slightly more costly than the competitors, it is the fastest tri-band model available on the market.
This router has the fastest wireless throughput speeds we have ever seen on both bands. In 2.4GHz mode, it gives 92.7Mbps on near proximity test (5 feet), defeating the previous front-runner; the Netgear Nighthawk X6 AC3200 (90.7Mbps). It gave a mighty 558Mbps on 5GHz. By a margin of more than 100Mbps, it clearly wins over both the Asus RT-AC3200 (452Mbps) and the Linksys EA9200 (443Mbps).
D-Link AC3200 (DIR-890L/R) is a great tri-band WiFi router that gives blazing fast throughput speeds with a design that will look great lying around on your office desk.
5. Asus AiMesh AX6100 WiFi 6 Long-Range Gaming Router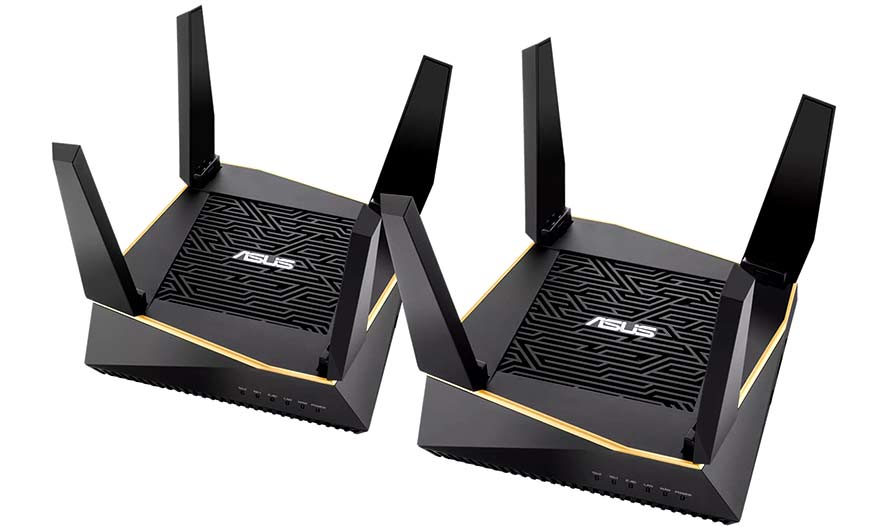 I am going to tell you upfront: this Asus AiMesh Wifi system is unbelievably fast.
This mesh router system retails at around $400 and comes in a pack of 2. I have seen it much cheaper at this listing on Amazon. Both of the routers are identical and feature a modern and sleek design. This design also helps with the ventilation of each router. There are 4-thick antennas on each unit that provide an aggregate throughput of 6.1 gigabits per second.
When it comes to ports and connectivity, this router is compatible with the latest Wifi 6 standard and features, 4 gigabit LAN ports, 1 gigabit WAN port, one slower speed USB 2.0, and one faster USB 3.1 port for adding storage and printers to your network. This port selection is identical for both routers.
Powering this mesh wifi system is a dual-core 1.8 GHz CPU paired with its own 512 MB RAM and 256 MB flash storage for each router. These high-end specs for both (the router and the repeater) allow Asus to deliver high throughput even when under load.
These two routers are connected using Asus AiMesh technology. It enables both routers to create a 4804 megabit backhaul link on a 160 MHz channel. It results in the same consistent speed and lower latency no matter which router you are connecting.
In my testing, I got 892 megabits of download speed when using my iPhone 12. The wifi signal is also strong and consistent with this AiMesh wifi system. It covers a two-story 2700 sq ft house without any problem.
Setting up this router is a breeze, and once you download the Asus Router App on your smartphone, it will only take around 10-15 minutes to set up both units. Using this app, you can tweak and configure other features of this router including, QoS, parental controls, wifi scheduling, renaming clients, and configuring a VPN server.
Everything is easy to manage and neatly categorized under relevant labels.
Like other modern routers from Asus, the AX6100 also comes with a lifetime-free AiProtect. This network security tool monitors your network for threats and unwanted intrusions and protects against malware and hacks. Unlike the competition, Asus offers this utility for free.
Overall, this is an excellent mesh wifi system, and the affordable price makes it stand out from the competition. If you are looking to upgrade your home network and eliminate dead zones, this AiMesh wifi system from Asus is an excellent choice.
6. Netgear Nighthawk X6 AC3200 Tri-Band WiFi Router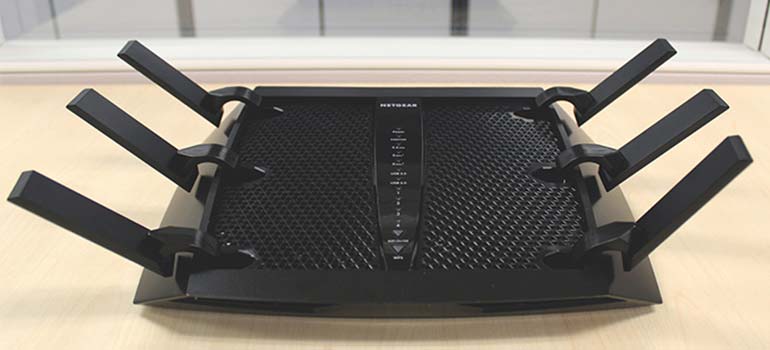 Netgear is the first company to launch a tri-band router. Designed for the increasingly popular Internet of Things (IoT) it can handle the increasing number of devices on our networks. Having a strange design, it resembles a robotic insect with six folding external antennas. The X6 includes a dual-core 1GHz processor with three off-load processors, 256MB of RAM, and 128MB of flash memory.
Despite supporting multiple devices, overheating is not a problem with this wireless router. It gives up to 600Mbps on the 2.4GHz and manages to provide up-to 1300Mbps on each 5GHz band. As the router is made to support many devices at once on a single network; it does not deliver very fast throughput for a single device.
For UI, the Desktop app does basic management and monitoring but to configure advanced settings, like port forwarding, browser-based Genie must be used. Netgear should do a favor to buyers by merging both interfaces into a user-friendly Web UI.
Netgear Nighthawk X is a promising new entrant, nicely handles the multiple wireless devices on a single network using the tri-band concept.
7. Asus RT-AC3200 Tri-Band Router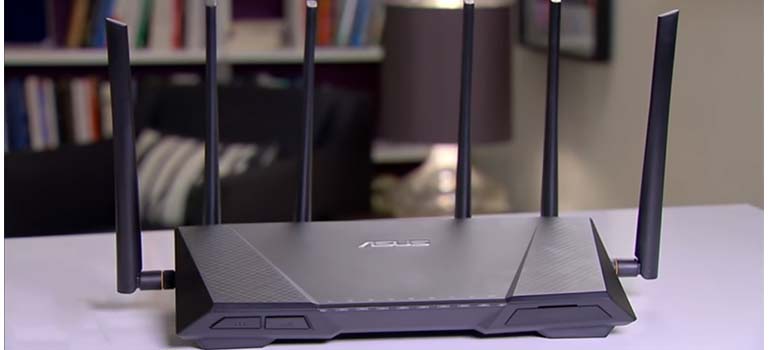 Competing with existing Linksys EA9200 and the Netgear Nighthawk X6 AC3200, the Asus AC3200 Tri-Band Router enters the AC3200 tri-band wireless router market. It is made for today's homes where a lot of users need maximum wireless bandwidth. It is a big device with six antennas. On all three bands, it gives good speed. With an easy user interface (UI), it has many advanced features. Observing its unimpressive file-transfer speed and a price tag of around 300 dollars, it is expensive.
The RT-AC3200 is the second-largest router lagging only behind the giant Netgear Nighthawk X6 AC3200 which too carries a large footprint. Having black color, its design is similar to the Asus RT-AC87. The router has lots of management features that can be accessed by a Web UI. A network map displays the number of connected clients.
Asus RT-AC320 is a Router showing off a next-gen. design is a giant device with six flexible antennas that perform great at 5GHz. File-transfer performance should be improved.
8. Netgear Nighthawk X4S Smart Wi-Fi Router (R7800)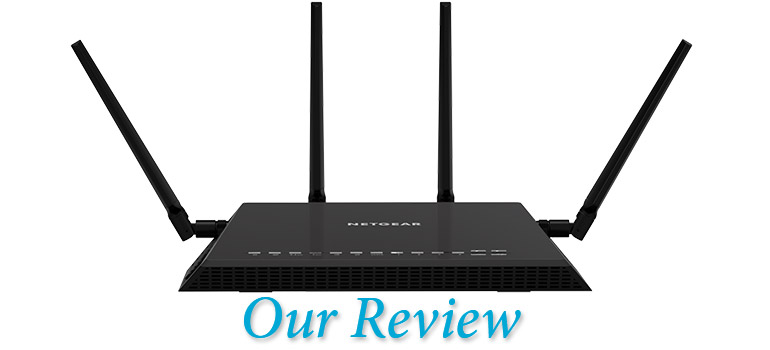 These days demand for multiple users is more than ever. If your home also needs a router to support many users at once, you should get a Multi-User Multiple Input, Multiple Output (MU-MIMO) router. The Netgear Nighthawk X4S Smart Wi-Fi Router (R7800), having a price tag of about 250 dollars can be a good choice for you in 2023.
It supports MU-MIMO data streaming, which means at the same time it can send and receive data to multiple computers or wireless clients without losing the bandwidth, which is unlikely for most routers as they can support only one device at a time. Please note that to use this technology, each client's network adapter should be MU-MIMO-compatible.
Talking about the physical look, it is a black colored gadget with four removable external antennas. It is interesting that it has a WPS button and a button that disables one or both radio bands. It delivers the fastest MU-MIMO performance among all the routers we have reviewed but its file-transfer speeds are not impressive at all.
Nighthawk X4S (R7800) is a serious player for the 5GHz and MU-MIMO market, with a very user-friendly Web UI and extended management controls, and should be considered a serious option if you can ignore a few shortcomings.
9. NETGEAR Nighthawk Pro AX5400 WiFi 6 Gaming Router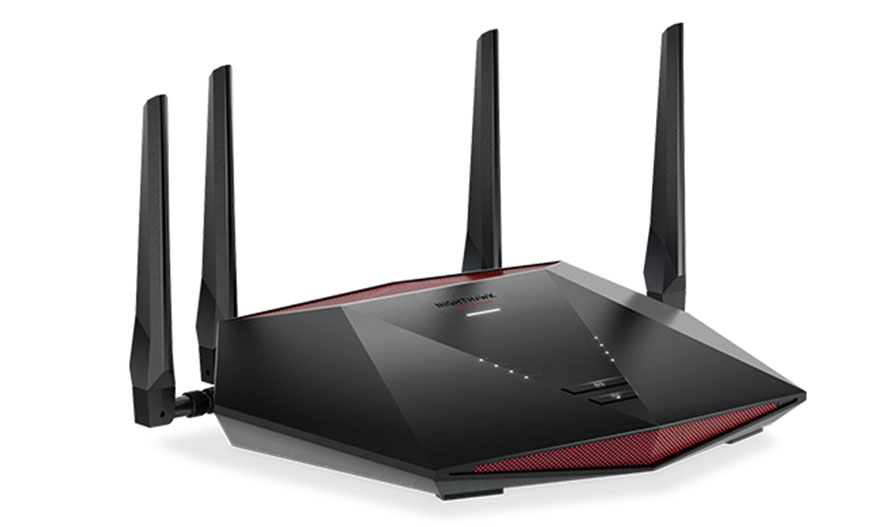 It is a gaming router, and the front of the router resembles a sports car. This router is the latest offering from NETGEAR, and it offers support for Wifi 6, OFDMA, 160 MHz channel, and much more. It has 4 gigabit LAN ports, 1 gigabit WAN port, 1 USB-3.0 port alongside a DC-in socket, and a button to power on and off the router.
This wireless router has four large antennas that provide excellent wireless coverage and signal strength. According to NETGEAR, this router can provide an aggregate wireless throughput of 5.4 gigabits. You can also aggregate two LAN ports on this router to connect a high-speed NAS to your home network.
Powering this router is a three-core 1.5 GHz processor paired with 512 MB of RAM and 256 MB Flash storage. This wireless router is running version 3 of router-specific DumaOS. It enables gaming features like ping heatmap, gaming first QoS, and geo-fencing servers for the lowest latency.
In my testing, I found that this router can cover a 2700 sq ft 2-story house without a problem. I was able to get around 760 megabits of throughput when standing 20 feet away from the router. When testing on the far side of the house, this router delivered about 200 to 300 megabits of throughput with a decent wireless signal.
When looking at the wired throughput performance, this wireless router performed great. I was getting around 70-90 megabytes of transfer speed when moving large files between computers.
This wifi router comes with NETGEAR Armour with 1 year of free service. This security service is powered by Bitdefender and claims to protect your home network from malware, viruses, and unauthorized access. After the first year, this service costs around $50 every year.
Overall, this wireless router delivers excellent performance with lower latency and excellent wireless coverage. For $350, it is a robust choice for gamers looking to upgrade their old router and improve their current home network.
10. Asus RT-N66U Dark Knight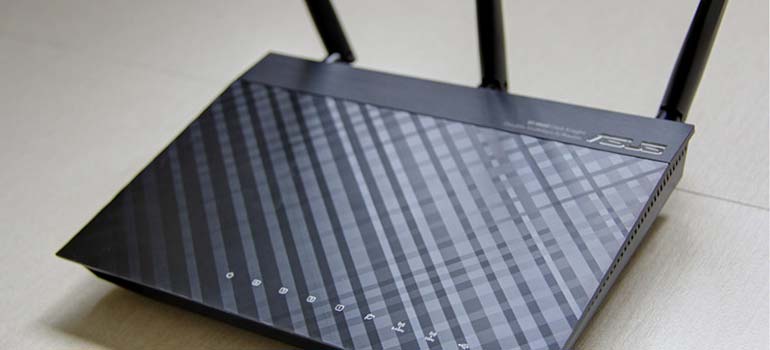 Asus RT-N66U Dark Knight offers wireless throughput up to 900Mbps by using 2.4GHz and 5GHz bands working at the max-speed 450Mbps. The router has three detachable antennas. Six accounts can be set up on the guest WiFi network while the traffic manager offers priority for selected protocols.
Aside from offering a basic set of features, the Advanced options include Virtual Server / Port Forwarding, VPN Server, Firewall, Dynamic DNS Service, and a few other good options.
The RT-N66U is expensive for a wireless router, but if have a blazing-fast internet connection, you can buy this router to push your home network to its limit.
Summary
A wireless router is an important part of hardware in any Local Area Network. It can also be hard and challenging to configure and use. Choosing a wireless router wisely before investing your money can be helpful for buyers who want to get the most from a high-speed Internet connection in the home or office, or any place where wireless routers are used. A useful suggestion is the placement of the wireless router.
For most big homes, the WiFi network's performance can depend upon the placement of the router.
Generally, you can place it in the middle of your home to make the most of a WiFi network with any wireless router you have chosen. You should not cover the wireless router, it should be placed in the open instead of in a closet.
Other things in your home can also affect the performance of your router. Floors, drywall, and plaster cause certain network degradation. But the biggest problem is aluminum which is usually found in offices and new apartments. Throughput gets slow due to weaker signals. The right placement would have a huge effect on the performance of your home or office wireless network.
Remember, a WiFi router is a critical part of a Wireless network and you should upgrade it when it gets outdated.