I love DD-WRT. It is a great, open-source router firmware that adds a whole lot of cool functionality to your already existing, kinda-dumb, wireless router. But did you know that DD-WRT can be a lot more powerful and add a lot of extra features (which are only for expensive enterprise routers/switches) if you pair it with a modern and more powerful router? Well, that's where I am here. I have tested and curated a list of the 7 Best routers for DD-WRT.
But let me first share the list of my top picks for DD-WRT supported Wireless Routers, so you can recognize if you have one of these, OR You can buy one from the list if you don't own one.
Best DD-WRT Routers 2023
| Name | Image | Rating | Price |
| --- | --- | --- | --- |
| | | 9.8/10 | |
| | | 9.5/10 | |
| | | 9.2/10 | |
| | | 9.2/10 | |
| | | 9/10 | |
| | | 9/10 | |
| | | 8.7/10 | |
| Name | Image | Rating | Price |
Benefits of DD-WRT as Compared to a Stock Firmware?
For people who are familiar with Custom ROMs for Android: it is just like rooting your phone and flashing with custom ROM, like CyanogenMod to gain more functionality out of the existing device. Except in Routers, you don't need to do anything to get the root access so you could flash a custom ROM.
For people who don't know anything about Custom ROM or Firmware Flashing stuff: Don't worry, the concept is pretty simple to understand.
So the concept is, that the software your router is running out of the box (stock firmware) does not allow you to do stuff outside of boundaries. Functionalities that can be achieved by flashing your wireless router with DD-WRT firmware, like:
Extreme parental controls.
Use VPN services inside your Router (so that all the devices connected to your wireless router get connected to VPN automatically, for better security or encryption, stuff like keeping local "Hackers" away from your information).
Getting much better bandwidth juice by using features like QOS (quality of service), which allows you to prioritize which devices and even programs are going to get more bandwidth and stable connections.
This helps your router to decide which apps and devices are going to get more juice when you are experiencing low bandwidth speeds, for more stable speeds.
And other stuff like port forwarding, Caching of website data to provide you more quick access to the websites/blogs you visit regularly. And MUCH more.
Now Let's talk about my top picks and why I chose those routers for my list of ideal wireless routers for DD-WRT.
Our Top Pick for Best DD-WRT Wireless Router – Linksys WRT3200ACM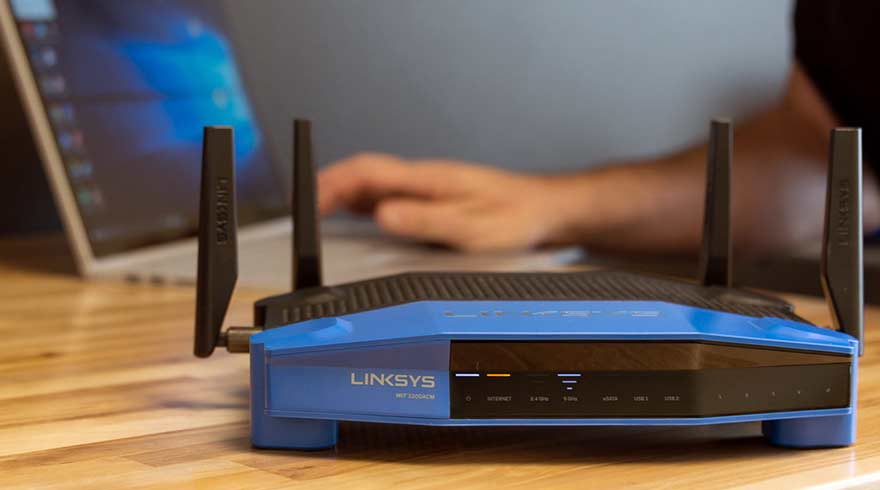 This wireless router from Linksys is a very powerful wireless router, with all the hardware that you might need for your home or small office ever. It has a 1.8 GHz dual-core processor, half a gigabyte of RAM, and 256 MB of flash storage for firmware and caching. The wireless radio is robust and provides decent wireless coverage, but I have found out that you may need to use another access point if your home/office is larger than 3000 sq feet.
It features Tri-stream technology which doubles the bandwidth of wireless radios (by running them on 160 MHz), so you can transfer data faster across multiple wireless clients. It also has MU-MIMO, which means multi-user multi-input multi-output. Most of the routers we see on the market have MIMO, which works only for a single client. But this router can offer MIMO to multiple wireless clients, which means a more stable WiFi with low latency.
This router also has 5 gigabit ports, out of which one port is a WAN port. It also has one USB 3.0 port and one eSATA port to connect your printer or storage to the network. Storage speeds are fast and reliable, and in my testing, if you connect an SSD to the eSATA port, then you get blazing fast, full gigabit transfer speeds over ethernet. I have been running DD-WRT on this router for the past two years, and it has proven to be the most stable and reliable router with only 30ish minute downtime.
With DD-WRT running on this router, you get much more stable and reliable IPv6 connectivity and excellent QoS. You can also download torrent servers and file servers on this router and turn this router into a 24/7 torrent machine or a powerful NAS device for your media, photos, and documents.
One of the latest things that I have been trying to set up is port mirroring, so I can monitor all the traffic going through my router and control bandwidth to specific devices and websites. You can also feed two internet connections to this router and use the load balancing feature of DD-WRT to keep you always connected to the internet even if one of your internet connections goes down.
Should you buy this wireless router? Well, it depends on your network and usage. I have 13 devices connected to this router and all the time through my house, and I have not seen any lag or downtime for those connected devices. Sure this router is expensive, but it is not for everyone, and you are only going to buy this if you are either a network nerd (like me) or want 100% uptime for all your connected devices.
And if you live in a dense apartment where there is a lot of WiFi signal around you, I would recommend this wireless router to you. It is running on this new wireless channel which is going to perform excellently in such situations.
I have seen some people complaining about restarting and the poor wireless performance of this router. You can fix it by putting this router in a well-ventilated area. There is no shame in displaying this beautiful router near your tv console or on your computer table.
TP-Link Archer C7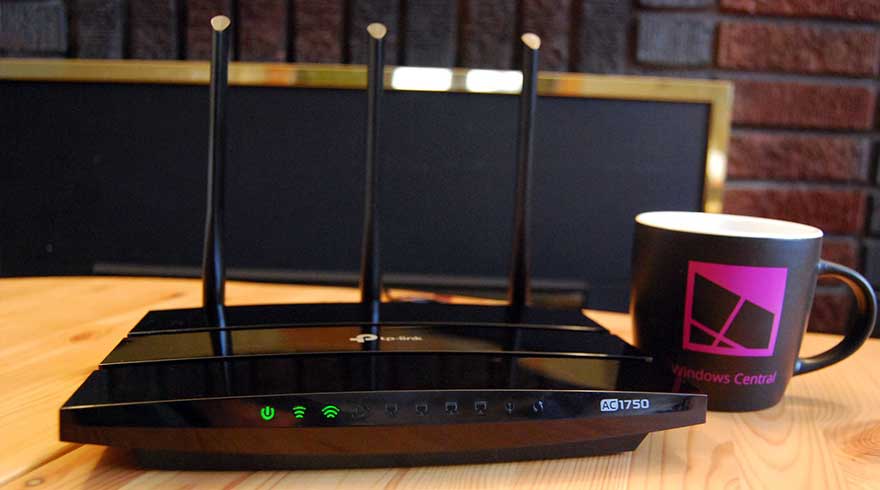 TP-Link is a well-known brand when it comes to networking, and people are pretty satisfied with their networking devices. Archer C7 is no different.
It is a robust wireless router with decent hardware, and it is fully compatible with DD-WRT. It has 1 Gigabit WAN port, 4 Gigabit LAN ports, and a USB port to share storage or a printer on your network. It is a dual-band wireless router and can do 450 Megabits on 2.4 GHz wireless and 1.3 Gigabits on 5 GHz radio.
It also has a decent range for small to medium-sized houses, and if you have a large house (more than 2700 sq feet) you will need to add another wireless access point to your network. Getting DD-WRT on this router is pretty straightforward and can be done in under 10 minutes. This wireless router has a powerful Qualcomm processor (the same kind of processor as your smartphone). It means that it is not going to overheat and perform great.
I have used this router for my home network for about two years until I upgraded to WRT3200ACM. And I was fully satisfied with the performance of this wireless router.
It still serves my home network as a second wireless access point and had pretty much zero downtime to this date. Coming at just under $60, it is an excellent budget wireless router that will get you up and running with DD-WRT in no time.
I always recommend this router to anyone, who is looking for an upgrade to their ISP modem/router combo. In short: it's a no-frills wireless router that also supports DD-WRT and is perfect for anyone looking to dip their toes into custom router firmware and upgrade their home network.
ASUS AC5300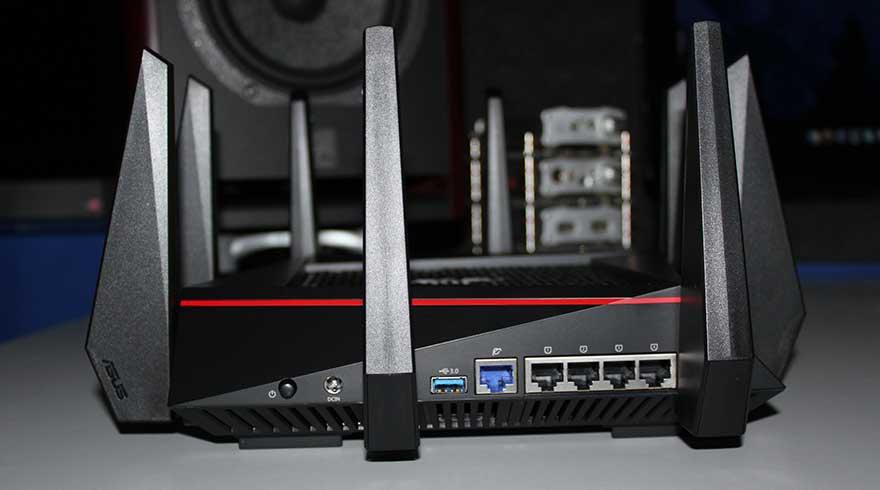 ASUS is a well-known brand when it comes to computer hardware and accessories, but did you know they also made wireless routers? This wireless router from ASUS is a monster piece of networking equipment, and with its eight high-power antennas, it looks like it came right out of an Alien movie.
Looks aside, this router got some serious Allen power under the hood too. It has 4 Gigabit LAN ports, 1 Gigabit WAN port, and a super speed USB port for connecting your storage to the network. You can use the slower-speed USB 2.0 port to connect the printer to the router too. But if your printer has an ethernet port, I would recommend you go the latter route.
The wireless capabilities of this router are also fantastic. It can easily cover around 4,500 sq feet of area without a problem. It has tri-band WiFi, which means it has two separate 5 GHz channels and one 2.4 GHz channel for super speed and low latency connectivity to wireless clients.
If you have a streamer/gamer family, this router can superbly handle all wireless clients without any problems or hiccups.
Installing DD-WRT is straightforward, and you can get it up and running in under 15 minutes. With DD-WRT on this router, performance is much better, and you can improve the functionality and add a lot more enterprise-grade features to this robust hardware.
I have tested this router for about a year in my office, and it performs excellently. I am running a torrent server, file server, DNS caching, and a VPN, and this router handles it all without any hiccups. QoS (with DD-WRT) on this router is working flawlessly, and we always get perfect video calls no matter what other people in my office are doing on the network.
I am not able to fully saturate this router and this is a good thing for me, and my company. Sure this router is a bit expensive, but the hardware that ASUS has provided justifies that money. And with DD-WRT, this router beats some expensive enterprise gear that costs ten times more than this wireless router. The only thing I wish it had was more ethernet ports. This problem can be easily solved: by adding a gigabit switch to your network. I am confident in recommending this router to anyone, who is looking for robust performance and future proof of their home or office network.
Netgear R7000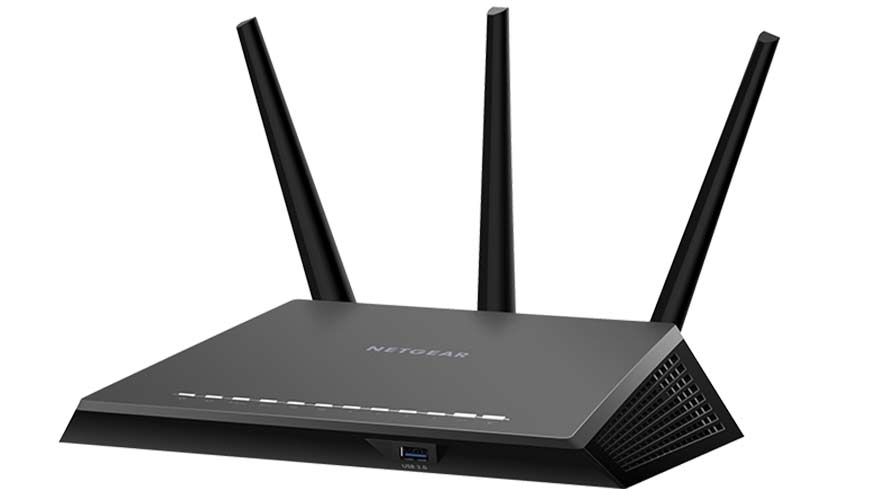 Netgear is a well-known brand when it comes to network gear. They make some powerful routers, switches, and other networking equipment, and this wireless router is no exception.
It is a powerful wireless router with a 1 GHz dual-core processor, 512 MB RAM, and 128 MB of flash storage. This router has 4 Gigabit LAN ports, 1 Gigabit WAN port, and two super-speed USB ports for sharing your storage devices and printers on the network.
It offers a pretty decent all-in-one package for anyone looking to upgrade their wireless router. I just installed this wireless router (about three months ago) in my brother's apartment, and he is very happy with the performance of this wireless router.
He says that the wireless signal is solid and reliable (unlike his old wireless router). Now he can easily stream 8K videos from YouTube and play games without any dropped packets or high latencies.
Most routers fail to deliver their marketing fluff in apartments and city areas where there are a lot of wireless clients. But this router does not disappoint and performs excellently in saturated environments.
This router is also perfect for DD-WRT, and I am in the process of testing this router with this firmware. The torrent server on this router doesn't work as expected and crashed. DD-WRT says they are working on a fix for it and will be released soon. Other than that, QoS, VPN, and other plugins work flawlessly on this router.
So if you want a router with no more than three antennas, reliable hardware, third-party firmware support, and a design that shouts performance, Netgear Nighthawk R7000 is a perfect choice for you. It costs under $200 and is going to serve you for years to come. It means a few cents a day for a reliable home/office network.
D-Link AC3200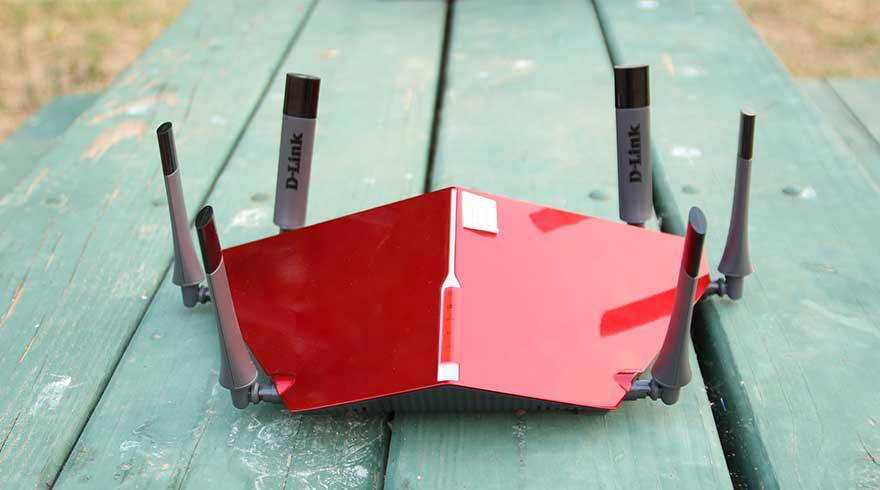 This red color router from D-Link has 6-external antennas, a tri-band wireless network, and a 1 GHz dual-core processor paired with 256 MB of flash and 512 MB of RAM. It also has the usual gigabit LAN and WAN ports with two USB ports (one of which is high-speed USB 3.0) for adding your storage and printer to the network.
The performance of this router (both for wireless and wired clients) is excellent and reliable. I have tested this router for around 6 months, and haven't found a single issue with the performance and reliability of this wireless router.
The only thing that sucks about this router is the default firmware and poor implementation of the QoS and VPN features. But lucky for me, this router is supported by DD-WRT out of the box. So, I installed the DD-WRT on this router, which helped me unlock the full power of this wireless router.
The QoS with DD-WRT is much improved and reliable, and the VPN works without any disconnects or dropped packets. Also, the performance charts provided by DD-WRT let you understand your network at a deeper level. And see which devices are hogging the bandwidth, and even add access control and timed access rules for devices you don't want to access certain websites at certain times.
You can install third-party packages and plugins like torrent servers, DNS caching servers, and media servers on this router to add features to this router that are only available for expensive and enterprise-grade routers, and networking equipment.
For under $200, this router from D-Link can prove to be a very reliable wireless router for your home or office, but only if you run DD-WRT on this router.
ASUS RT-AC1900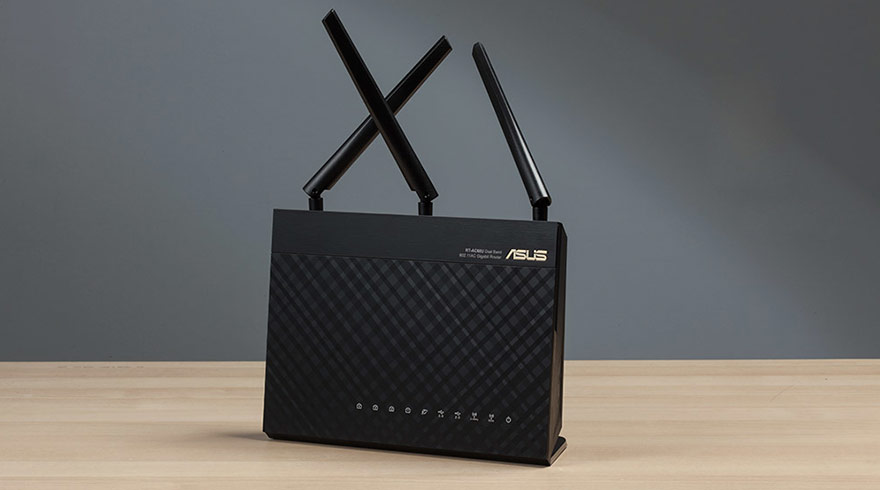 It is the second router from ASUS that I am mentioning in this list. Unlike its big brother: AC3200, this router is small and has only three wireless antennas, but that is not a downside at all, because it still offers decent wireless coverage and excellent performance for wireless and wired clients.
It has 4 Gigabit LAN ports and 1 Gigabit WAN port, along with two USB ports for storage and printer connectivity. Powering this router is a 1 GHz dual-core processor paired with 256MB of RAM and 128MB of flash memory. For under $140, these are pretty decent specs for any wireless router to have.
The ASUS firmware for this router is okay but not the best. It lacks a lot of features, but you are buying this router to put DD-WRT on it. So, why even bother about the default firmware?
Installing DD-WRT on this router is pretty simple and does not require any additional steps. Once you install DD-WRT on this router, this is when you unlock all of its potential and load different packages on this wireless router and make it a super wireless router. The QoS, VPN, and DHCP work flawlessly on this router.
You can increase the power of the wireless radios in this router to extend the range of the wireless network, without using a range extender of any sort. You can also set parental controls and block websites/internet for specific devices on your local network. The guest network can be isolated from your local/home network, so you do not have to worry about unauthorized access.
The only thing I do not like about this router is that it stands rather than sits. So, if you have stiff ethernet cables, the router is going to get lifted by the cables. But for the price, it is hard not to recommend this router to anyone, looking for an excellent DD-WRT router for less money.
Linksys EA6350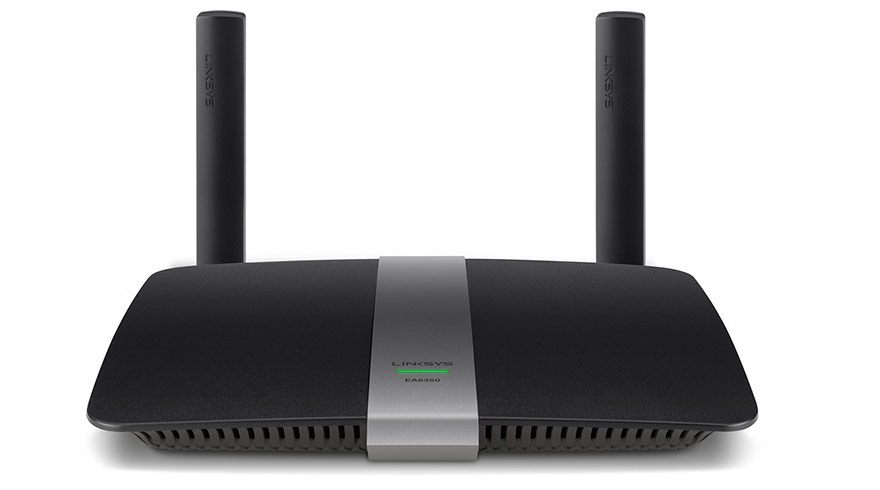 This dual-band router from Linksys has been around for a while now. It might not have modern wireless technology, but it still got powerful hardware for most homes and small offices. It has a single-core 800 MHz processor and 128 MB of RAM, and 128 MB of flash memory.
These are pretty decent specs for a wireless router, and when running DD-WRT on this router, the performance is blazingly fast and reliable. It has Gigabit WAN and LAN ports and 1 USB 3.0 port for connecting a storage device to your network.
I have used this router with DD-WRT running on it, and I can confirm it is a fast, reliable router for a home or small office. It does QoS and VPN without any connectivity or latency issues. The wireless range is not the best, but it is decent enough to be used in an apartment and a small house.
Linksys has locked this wireless router with only 10 clients on the wireless network, but DD-WRT allows you to remove that restriction and connect as many clients as you want.
Moreover, you can load caching and torrent packages on this router and make it a DNS server and a Torrent server that consumes less than 24 watts of power. It is especially great for running torrents in the background, and you do not need to keep your computer powered on all the time.
You can buy this router for under $100 (and much cheaper if you can buy a used one). This router is perfect and an upgrade for the cable modem/router combo that is going to last for years to come.
To sum it all up:
DD-WRT is a great open-source router firmware that unleashes the true potential of wireless router hardware. The best part is that it is compatible with a ton of wireless routers, and chances are that your current wireless router might already support it. But if you are a network nerd like me and want to upgrade your home lab with more powerful options, Linksys WRT3200ACM and ASUS AC5300 are both excellent and robust routers for you. They have the hardware that is at least going to last you 5 to 7 years. And with DD-WRT and app packages, the possibilities are truly endless.
If you are on a budget, then TP-Link Archer C7 and Linksys EA6300 are both great options. They will let you get into the DD-WRT world without breaking the bank and offer super router performance for under $100. And if you want to upgrade in the future, you can turn your old router into access points or range extenders.